Nurse In at  KB Thai
On Friday 10th of May, Bruce Sands posted this message on KB Thai, a restaurant on the Woy Woy, NSW, Facebook Page: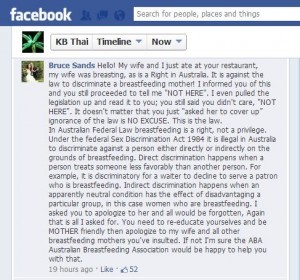 According to Bruce's message his wife, Ling Sands, was breastfeeding their three month old baby at KB Thai restaurant, a staff member had approached them and told the couple that his wife needs to "Cover Up". Bruce describes pulling up the legislation which protects his wife's right to feed their child, read it to staff, and was still told "NOT HERE".
All he asked for was an apology for his wife.
There have been many comments on KB Thai's Facebook page in response to Bruce's message, however KB Thai have been yet to respond on their page.
Lactivists Australia, who organised the Nurse In at Satellite Cafe have organised another nurse-in to continue to try to educate business owners and the general public:
"We are protesting to draw attention to this incident and the laws that protect breastfeeding in public. We demand that all businesses and individuals respect a mother's right to breastfeed anywhere, anytime." – Lactivists Australia.
The nurse in will take place on Wednesday the 15th of May, at 12:30pm, at KB Thai – 115 Blackwall Road, Woy Woy, NSW.
For more information on the Nurse-in and to show your support go to Lactivists Australia Facebook Event